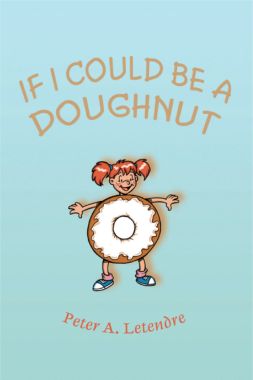 Copyright
©
2008
Peter A. Letendre
Doughnut Tidbits
The book's title poem, "If I Could Be a Doughnut," captures the unifying concept behind all of the verses — a child's imagination is a priceless joy to be celebrated.
From the book's preface:

I wrote this book to amuse myself while enduring a long episode of flu. After the flu left, I was still writing. It seemed that I got a bug of a different sort. I enjoyed stepping into a world where animals, insects, dreams, ghosts and strange monsters gathered and mingled with kids and cowboys to make life a little lighter.
This diverse collection of 68 poems includes a host of fun characters:
Shirt brat who insists on calling his mother "babe"

Grumbling onion who surprisingly dislikes other vegetables

Johnny Sandals, a laid-back cowboy who prefers sandals to cowboy boots

Larry, the dancing lion, who finds freedom with a skateboard

Paulie, the raindrop, who needs extra coaching to make it down to earth
Read some poems:
Listen to a few poems here.
Children will chuckle often, but not all entries are comical. If I Could Be A Doughnut has poems to captivate children of many ages and interests.